Whatever project you have in mind, it's vital that you get the best deal that you possibly can for your professional gardening service. Local businesses can offer superb value for money, but you need to be able to know where to look, and that's not always easy. So, how much should you be paying, and what do you need look out for when trying to find the best rates for gardening services in your area?
What is a typical hourly rate?
A good rule of thumb is that if you are paying by the hour, you should expect to pay upwards of £10. Realistically, if you want a gardener with specialist qualifications or experience the cost will be higher than this. These case studies illustrate clearly how the type of service that you're looking for will determine the rates you're likely to pay.
It's always best practice to ensure that you have a detailed breakdown of the work required for your garden in advance of getting a quote. Of course, your chosen contractor can help you narrow down the details. However, there's no substitute for research and planning on your side too. Take measurements, and know what your budget is. Also, don't compromise on the final quoted price either, if it's not what you're looking for.
Other cost factors to consider
Call-out charges. Many gardening companies will include minimum call out charges in their quote. ALWAYS ensure you take these into account in factoring the overall cost if these are quoted separately.
Consider a fixed price. By agreeing work in advance it may be possible to secure yourself a better deal, but this needs some careful planning. Getting more than one quote is usually the best safeguard against overpaying. You'll be getting a second opinion, as well as a range of prices to choose from.
Garden maintenance costs
The simplest jobs in the garden involve maintenance type activities, such as clean up operations for leaves, weeding, lawn repair and mowing and so on. You'll find that these sorts of jobs tend to command the cheapest rates, and often for longer term contracts (where you agree weekly visits during the summer), you can get great prices. That said, this will depend on where you live, and availability.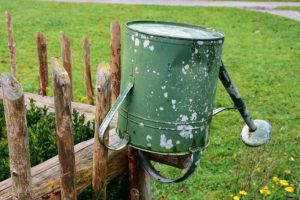 Many people love spending time in their gardens and also working on them. However, just as many households are happy to hand some of the less glamorous sides of garden maintenance over to a professional!
Getting to know your year round schedule is also really important if you're looking to hire a gardener, as it can help you plan out your budget for the year, decide which bits you want to do yourself, and what you are happy to out-source to a professional.
The RHS have some fantastic resources available for beginners, and seasoned gardening enthusiasts alike, and can help you plan out your gardening schedule throughout the year. There are plenty of jobs that can be tackled during the winter months too; looking after your garden is not just something to think about during the summer!
What about costs for garden renovation or refurbs?
Redesigning or refurbishing your outdoor space is a great idea, and can add a lot of value to your property if done correctly. In fact, many gardening companies specialise in this area. Unsurprisingly, the cost for this type of work is likely to be more substantial. For full professional design, you're looking at thousands of pounds. This is likely to cover specialist garden landscaping design and planning work, as well as labour costs (hourly rates), for installation of features.
A great way to make large garden projects easier to achieve, and crucially also more affordable, is to break things down into chunks. Getting clearance and groundwork done first is a good start. Clear overgrown shrubs and plants, then look at your separate installations. Great individual projects might include any of the following for example:
A new patio. Here costs can range from a few hundred to a few thousand pounds, depending on material specifications and size of area to be covered.
Lawn turfing. This can make an excellent final project for large-scale clearance projects and results can look stunning. It's also an affordable solution! In this case, price will largely be determined by the area that needs to be covered, but you'll be looking at a few hundred pounds at least.
Water features.  Adding a pond is a classic example, and these can breathe life into an otherwise uninspiring space. Make sure you have considered safety precautions, and ensure your contractor is able to deliver. Get references, and check for testimonials.
In addition, new flower beds, rockeries, and even fences can be added to produce a stunning final result. For some additional information, take a look at 8 things to consider when budgeting for your garden refurbishment.
Getting gardening estimates
Crucially, you should get a number of estimates for your job. We can help you get access to a series of prices from gardening businesses that service your specific area. When requesting quotes, the more detail you can provide, the better. Good luck!